This page is the hardest for me to write, Why? mainly because There is no way to express in words my adoration for Tina Louise. so0o0o0o basically all I can say is I adore her! She has opened my world to acting and theatre. she's just changed my life!
The rest of this page is basically My opinions on Issues surrounding Tina. How I got to admire her and so forth. PLEASE remember while you are reading this it is my opinion and my opinion alone. So don't take offense if something I say really bothers you.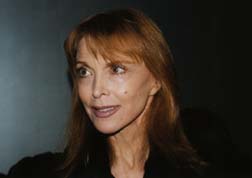 Most people got to know Tina through Gilligan's Island or her Pinup years in the early 50's. But I first saw her while I was flipping channels when I was 12 years old, I turned on "Armored Command" and When I first saw her I knew there was something special about her. Ever since then I have been completely fascinated by her!

about Gilligan's Island: How I see it is, Gilligan's Island Made Tina disappear, and in place left Ginger. I think Tina just wants to be herself more then anything in the world! and that's hard to do when people keep reminding you of your past. To Most people she's Ginger, or "The Movie Star", I think It's a terrible thing that people can't see her for who she truely is, shes Tina! and shes a regular person! and that's what I think she really wants to be!

"I don't want to Traipse around in an evening gown for the rest of my life"-TINA LOUISE



To me Tina has had the Ideal Life! she's been an Actor, a Model, an Author, an Artist,Traveld to Europe, she's been a Wife, a Mother, and Just a Great Person! Today Tina is living a regular life. And it looks to be like she's loving it! She is a volunteer reading teacher in New York City. Shes an Artist, and a lifetime member of the Actors Studio.
I think it is absolutly wonderful that she's giving something back to the world! and helping to enrich peoples lives. I think Tina just wants to be Tina, and I think that can be very difficult for her at times, but shes doing great! and she loves life!

Some people often make comments like "well gee I have only seen her on Gilligan's Island, she must not have had a great career" All I have to say to that is "So what! so shes not Marilyn Monroe! well guess what, she doesn't want to be!" The following quote by Tina proves this.

"I don't want to be larger then life, That's not who I am"
From ET